CIEE Japanese Language Programs
*Level 100~700 refers to the level of the CIEE Japanese Level Check.
1. Elective Japanese Language Course
This course is mainly for all graduate students and research students who wish to enter graduate school. Some international students need academic Japanese language skills for their research activities, while others need Japanese for daily communication in the laboratory. For this reason, we focus on specialized Japanese language courses for research activities such as writing papers, presentations, and oral communication using Japanese, and also offer general Japanese language courses and Kanji and vocabulary courses as the basis for general Japanese language courses. There are seven levels of Japanese, from introductory (100 level) to advanced (700 level).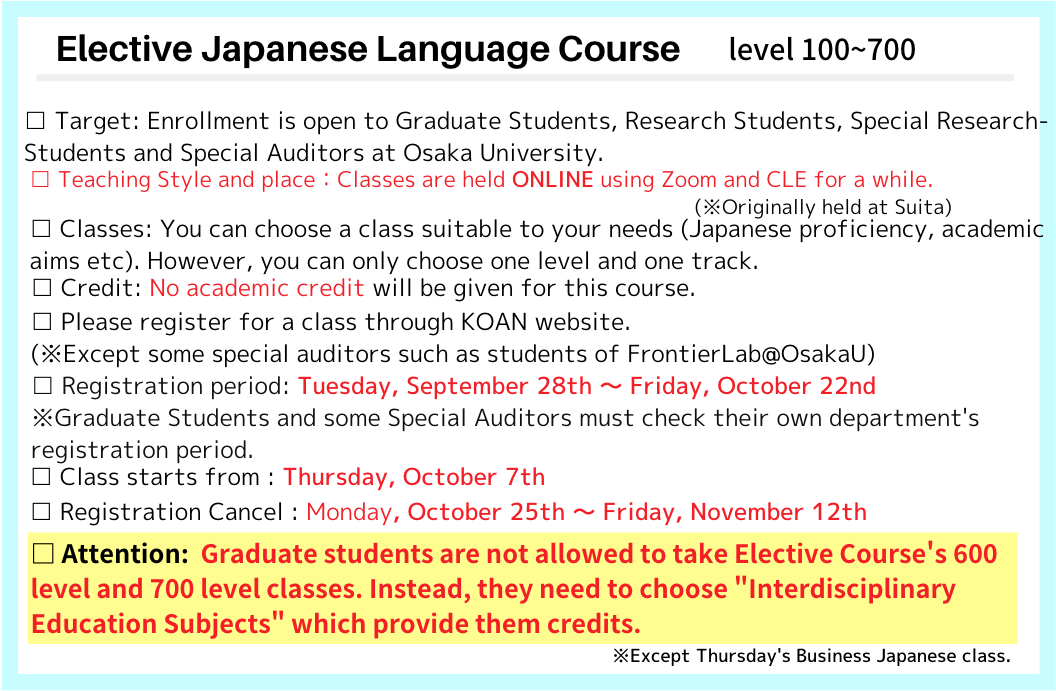 2. Intensive Japanese Language Course (IJLC)
This is a 15-week intensive preparatory course in Japanese language mainly for international students who wish to enter our graduate school. The majority of students are government-sponsored by the Ministry of Education, Culture, Sports, Science and Technology (MEXT) (embassy-recommended research students and teacher trainees), but other international students (research students, graduate students, and short-term students) from within the university are also accepted when space is available. The goal of this course is to enable students, regardless of their Japanese language ability, to make short presentations in Japanese on topics in their field of specialization, using visual aids such as PowerPoint. There are three levels: introductory (100 level), beginner (200 level), and intermediate (300 level).
【Updated】
54th Intensive Japanese Language Course 2021 Fall and Winter
※For fall and winter semester 2021, we will not accept internal students.Thank you for your understanding.
Application Guide
Application form
Poster
3. International Exchange Subjects: JA・JGU
The Center for International Education and Exchange (CIEE) offers a Japanese language course (JA) mainly for short-term international students. This course is also available to undergraduate English course students as a first foreign language course. Each JA class consists of three 90-minute lessons per week, and the curriculum is designed to enable students to comprehensively acquire the skills of speaking, listening, reading, and writing. There are four levels, from introductory (100 level) to upper intermediate (400 level). In the fall and winter semesters of the 2019 academic year, we have reorganized our advanced level classes and started a new class called "Global Understanding Practice (JGU600)" that incorporates content and language integrated learning (CLIL). There are two levels here: the lower advanced level (500 level) and the upper advanced level (600 level).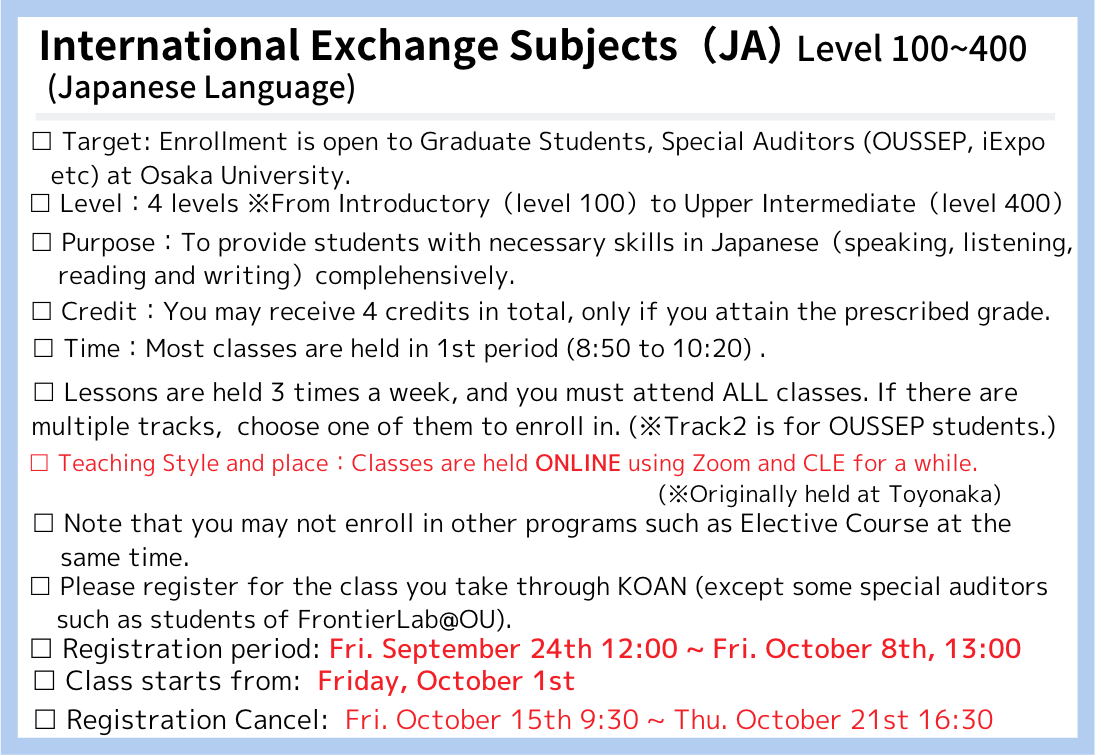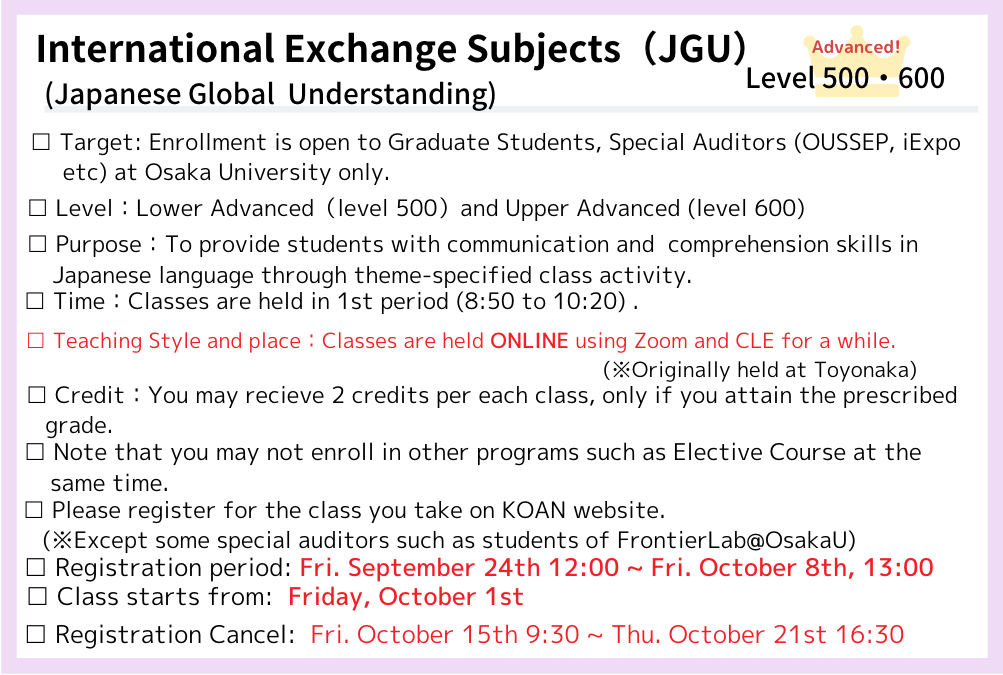 4. Japanese related Subjects in Liberal Arts and Sciences
Japanese related Subjects in Liberal Arts and Sciences are offered as "Second Foreign Language" and "Global Understanding" courses. Based on the diverse backgrounds and needs of undergraduate international students, three courses are offered: Japanese for Advanced Communication, Japanese for Academic Purpose, and Multicultural Communication (Japanese). The first two are positioned as second foreign languages, and the latter as Global Understanding. The "Japanese for Advanced Communication" course aims to comprehensively acquire Japanese language skills that are useful in all aspects of university life. On the other hand, the " Japanese for Academic Purpose" aims to develop more specialized Japanese language skills. In the "Communication in Multicultural Context (Japanese)", international students and general students work together on projects to develop practical communication skills in a multicultural environment. All of these courses are only available at the upper advanced level (700 level).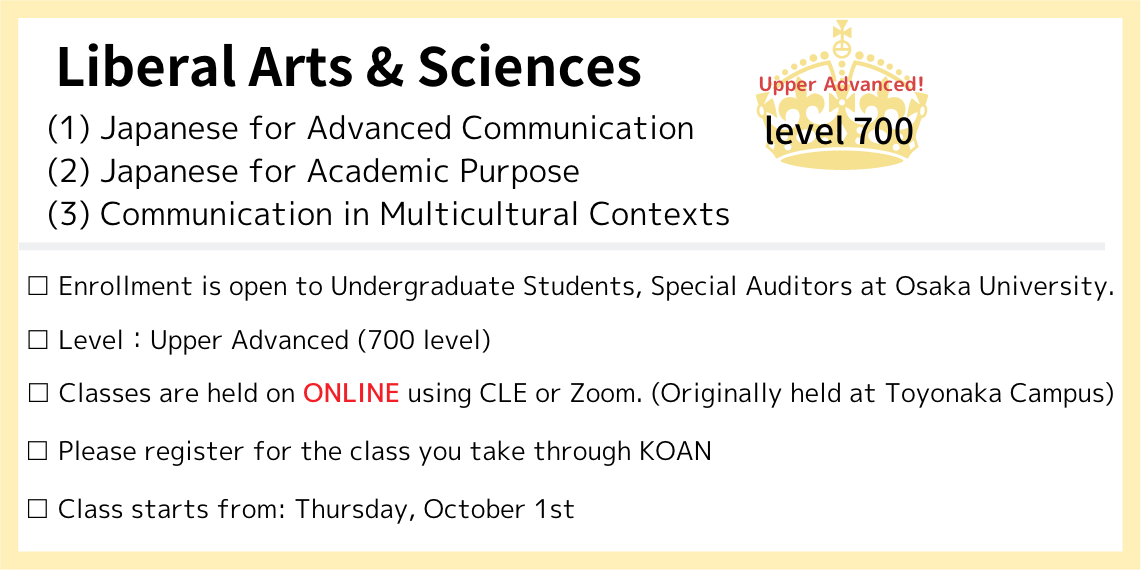 5. Interdisciplinary Education Subjects
In our graduate education, we offer interdisciplinary education courses that aim to enhance education to cultivate a multifaceted perspective that is not bound by the framework of a single graduate school. In addition, with the increase in the number of international students enrolled in graduate schools, there is a growing need for students to have the academic Japanese language skills necessary to carry out their research activities and to design their careers with an eye to what they will do after completing graduate school. In order to meet these needs, CIEE offers four interdisciplinary courses: Academic Reading, Academic Writing, Academic Communication, and Career Design and Business Communication. These four courses are offered as interdisciplinary education courses (all semester courses). In these courses, we strive to provide opportunities for dialogue and learning that transcend language, culture, and fields of specialization by taking advantage of an environment that attracts international students from various countries and regions, regardless of whether they are science or humanities majors. Levels are equivalent to upper advanced (600 level) to super advanced (700 level).